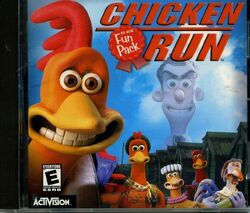 Chicken Run Fun Pack was a Chicken Run video game by ACTIVISION which was released on PC for Windows 95, Windows 98. It was released in both American and Europe on June 23, 2000.
Manufacturer's Description
Edit
Join the gang from Chicken Run in the software fun pack. In addition to offering some of your favourite clips from the movie,Chicken Run, the CD-ROM, offers a customisable desktop and two different mini-games.
Help Rocky and Ginger in their latest daring attempts to free the other chickens, or bounce the chickens to freedom in another breakout attempt.
Spring Chicken - Help the Chickens escape by catching and catapulting them forwards over the fence.
Chickenizer - Download Wallpaper, Icons, Cursors and sound to customize your computer.
Fowl Play - Watch video clips from the film.
Egg Savers - A series of Chicken Run screen savers.
Run Chicken Run - Help the Chicken escape by covering the holes in the path with different planks. Chhose the right plank for the right hole or the plank will collapse and the Chicken will fall into the hole.
External Links
Edit