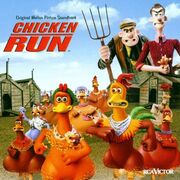 John Powell and Harry Gregson-Williams composed and produced the music for the film, which was released on 24 September 1999 under the RCA Victor label.
All music composed by John Powell and Harry Gregson-Williams, except as noted.
Playlist
Opening Escape" 3:39
"Main Titles" 3:24
"The Evil Mr. Tweedy" 4:22
"Rats!" 1:09
"Chickens Are Not Organized" 1:01
"We Need a Miracle" 2:03
"Rocky and the Circus" 3:51
"Flight Training" 3:39
"A Really Big Truck Arrives" 5:56
"Cocktails and Flighty Thoughts" 1:58
"Babs' Big Break" 1:40
"Flip, Flop and Fly" (composed by Charles Calhoun and Lou Willie Turner, and performed by Ellis Hall) 2:09
"Up on the Roof" 3:08
"Into the Pie Machine" 3:10
"Rocky, a Fake All Along" 3:28
"Building the Crate" 3:32
"The Wanderer" (composed by Ernest Peter Maresca, and performed by Dion) 2:47
"The Chickens Are Revolting" 2:45
"Lift Off" 3:41
"Escape to Paradise"